– 2yr old MN DSH presented for respiratory distress
– no heart murmur detected T=33C!
– chest rads show suspected pulmonary edema and enlarged heart
– treated with furosemide and oxygen support
– performed echoe once deemed stable (but was very tricky!)
– gave low dose butorphanol to help calm and did my best!
1. Any hints on performing meaningful echoes on these patients that are on the edge?

– 2yr old MN DSH presented for respiratory distress
– no heart murmur detected T=33C!
– chest rads show suspected pulmonary edema and enlarged heart
– treated with furosemide and oxygen support
– performed echoe once deemed stable (but was very tricky!)
– gave low dose butorphanol to help calm and did my best!
1. Any hints on performing meaningful echoes on these patients that are on the edge?
2. The clip of the LV shows a strange lesion in the IVS (looks like 2 anoechoic nodules) – is this a true lesion or just poor positioning on my part creating this?
3. What criteria do you use to rule out SAM? (I don't think this pet has it – had trace MR on colour doppler, aortic velocity 0.89)
Our kitty on presentation lateral thorax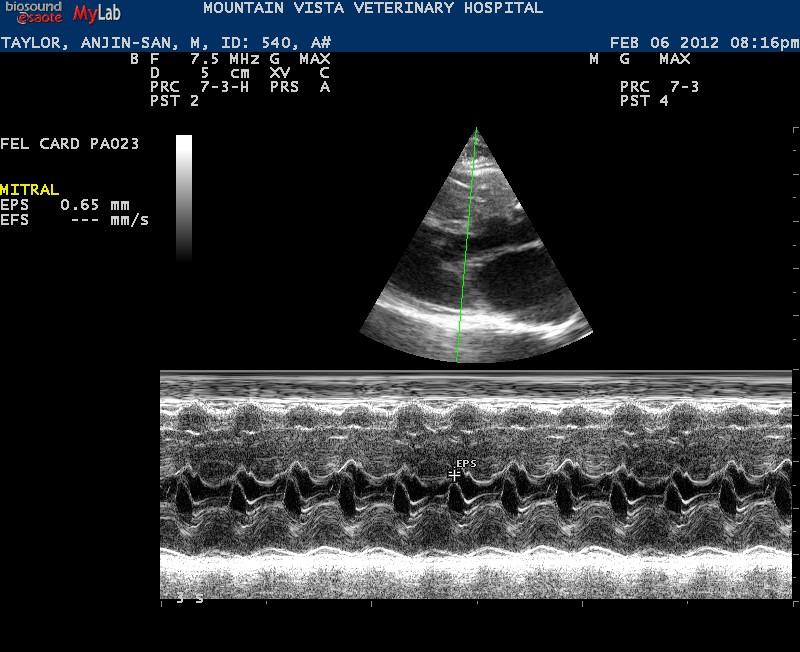 [videoembed id=6919]